The post below was written by Jason Hammond, our How Does it Work Gallery Educator at the Children's Museum of Houston:
The process of providing content for a newly developing app is quite interesting, especially when you start a new job and are asked to start working on it immediately. Having some experience with app development I wasn't too worried about the task, but it was great to be able to collaborate with such great colleagues, who were almost immediately supportive of the ideas I had. When brainstorming about the content sections of this particular app, I wanted to go with simplicity. I wanted the average user to look at the content sections and immediately have in their mind what they would see as soon as they clicked on a particular section. And I hope we got fairly close to that goal.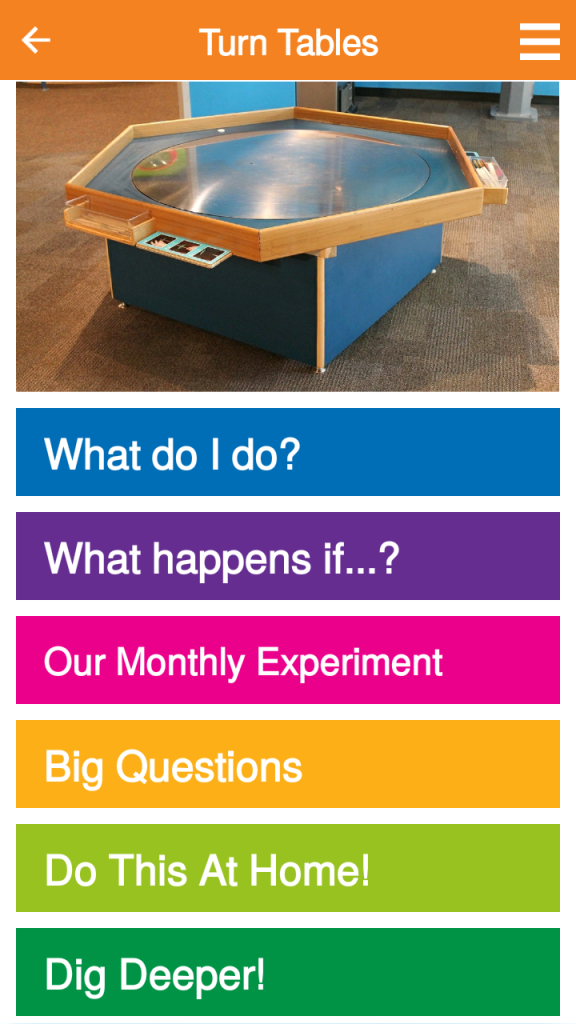 1) The first content section was the easiest – What do I Do? Whenever anybody walks up to an exhibit component in our museum that is the first thing they are thinking about. What I like about app technology versus signage is that we can employ all sorts of different media to help people understand what to do. We can include text, still pictures, videos and audio cues. I hope this helps people engage better with the component and feel more comfortable about trying out components that they might not normally try.
2) I wanted to put a What Happens If…? section separate from the What Do I Do? section because I wanted to ensure that people first understood the most basic way to interact with the component before trying to interact with it in a more sophisticated manner. I also wanted to see how many people would first try the ideas in What Happens If…? before clicking on the section. It's important to me that patrons understand the basics, try out their ideas and then seek out other ways to interact with the component.
3) Our Monthly Experiment section was created to inspire patrons to participate in a single experiment that would yield verifiable data. It is an attempt to create a community of scientists, engaged in an experiment where results  can be posted to be examined by people who have, or have not, participated in the experiment. It can also potentially create scientific debate. It is also our hope that people would submit their own experiments that could be tried at a later month.
4) Big Questions are a way of explaining the science behind a particular component to a number of different learning groups. Very often we have families visit us with children ranging from infants to teenagers. In order to meet the learning needs of all children we have created age group sections within the Big Questions sections, so that parents and children can easily access the science concepts being taught at learning levels that are comfortable for their understanding. There are also links embedded in the text that will send patrons to a glossary or web site that can better define certain terms or concepts.
5) Do This At Home was created so that the learning experience doesn't end at the museum but continues even at home. Each Do This At Home activity is a multimedia learning experience that enables families to engage in a project that has a similar concept to the component they were learning about at the museum. One of the high hopes for this section is that families will post about the activity they did at home encouraging other families to do the same.
6) Dig Deeper is a content section designed to engage families in the science concepts being taught through multimedia. When a family clicks on this section they can click on different videos, photos and web sites that enables them to explore and understand the concept even more. A great future benefit to this section is that families can also share valuable links, so a database of ideas can be created.