Science in Portland!
By the Oregon Museum of Science and Industry (OMSI)
First, a little about us:
OMSI is a large hands-on science museum for all ages in Portland, OR.  Our greatest membership consists of families with children 3-13.  Our annual attendance is 650,000.  Find out more: http://www.omsi.edu/
OMSI has several exhibit spaces:
Featured Hall for traveling exhibits on a 3-6 month rotation
Early Childhood Education Hall with 1 Lab space
Life and Earth Hall with 2 Lab spaces
Turbine Hall with 3 Lab spaces
Planetarium Hall
(OMSI Lab spaces are staffed spaces used for reserved programs; these labs are open to the public when not reserved beforehand.)
XCL Project Goals for OMSI:
The project has overall goals that we adhered to found here: http://www.21-tech.org/about-xcl/, but this is what was in our head when we were developing new content:
Is it fun, engaging and/or informative?
Does it look good?
Is it easy to navigate/find info?
App content should be more than facts, but a launch pad for creative experimenting/playing
The app should increase the diversity of experiences at the same exhibit.
The app should provide greater opportunity to personalize a visit to the exhibit/museum.
The content on app should expand beyond the museum.
Our exhibit selections for the beginning of the XCL project:
When we were first discussing what exhibits to use for testing in the App, we wanted to have an accurate sample of the types of areas and exhibits we have here at OMSI.  We ended up choosing two different sets of exhibits to put in the App for formative testing.  One group is a set located in the Turbine Hall called "Pressure in Science" and includes Water Bottle Rocket, Air Rocket and Cartesian Diver.  The second station was the Watershed Lab located in the Earth Hall.  This includes the Watershed Table, NW Renewable Energy Table, Sink or Float, Ice Cores, NW Fossil Map, Seismograph and a Scavenger Hunt. (see pics below)
We chose these two stations for a couple of main reasons.
OMSI has exhibits in different types of environments; some are large spaces (Halls) always available to visitors, and some are smaller (Labs) that are only open during specific times and have interpretation staff nearby. By having App content in both types of environments we were curious to see if an App is used differently in the different areas.
This also allowed us to try different types of content between exhibit styles to see if certain exhibits would prompt a particular use of app content. Some examples of diverse app content we tried are: "scavenger hunt", "audio tour", "photo op station", "challenges" and "try this at home" (more on these later.)
The Evolution of our App Content
Color:
Overall, for the app we went with Grey, Red and White, since those are official OMSI colors.  For the categories, we went with different bright colors for each category.  The thinking was for ease and recognition when selecting content.  Having those selections of colors and categories consistent throughout the app stations allowed for quick recognition.
Here is a look at some examples of app screenshots:
Categories:
Our categories at OMSI have changed and evolved since we first started the project.  We began using most of the same categories that Children's Museum of Houston (CMH) used in their prototype App.  These categories are: What do I do? What happens if…? Big questions, Do this at home! Dig deeper!). After a few rounds of formative testing, we modified, combined and removed some of the categories.
Content
1.  "What do i do?" content showing how to use the exhibit, often with video.
This content was mostly also on the exhibit signage, but not always
From formative testing, we found that this was one of the most used of the video content; therefore we added more, yet shorter video here.
2. Changed category title "Try this!" to "Challenges" …and then changed back to "Try this!" – This category is mostly for using the exhibit in various ways that are not on the exhibit signage. When we first changed the category title "Try this" to "Challenges" it was to make the section more exciting – get the user engaged! – and see if wording of categories affected the experience. It did and does! We had numerous visitors who tried the App tell us that the challenges sections either wasn't challenging enough or there weren't enough of them.
After this feedback, we returned the category heading back to "Try This!" and labeled only the appropriate posts within that category as challenges. The responses we received after the change improved and it has remained since then.
Visitors did comment on using and enjoying this "Try This" category, so we focused content development here.
We had a few visitors even say, "I haven't thought of using this exhibit like this before," so we knew we were on the right path.
Later in the rounds of evaluation, there was an added function in the app to use polls.  We utilized this in the "Try This" section with some success.  We want to explore more here.
3. Combined categories "Big questions" and "Dig deeper" – Initially "Big questions" was the category where questions directly related to the exhibit were put (why did it do that, how does it work?) and "Dig Deeper" was where the more detailed or tangentially related questions went (newton's 3rd Law, buoyancy, etc.).  See older screenshot.
After hearing feedback from visitors and discussions among ourselves that these two categories weren't different enough to warrant separate sections, we combined them.  See newer screenshot.
This had the added benefit of reducing the number of categories and places to search for content, allowing the content choices to fit on the screen without needing to scroll through choices.
Also notice in the newer screenshot, the category colors are all different.  We felt this was good for recognition of categories.
These experiences clearly showed that being able to quickly locate any content you want is very important in the use of any particular content.
4. Added a "Real Life Applications" section – We decided to add a section that showed how the science of the exhibit is applied to the real world. We felt that this could be a great section to help people understand why it is important to know this information and how it affects their everyday life. We also asked for people to make their own suggestions to add to this category using the comments section.
We didn't get much feedback about this section, although we did observe some people use it.
We hardly saw any use of the comment section.  This is true of the entire app, and we were a little disappointed.  In general, the comment section is one area we would like to further develop.
5.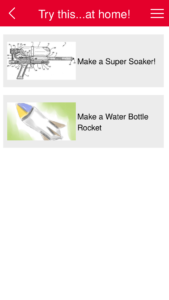 "Try this…at home!" – This section was to inspire at home exploration related to exhibits at museum.
We tried a round of formative evaluation to test if people used the app before or after the exhibit, but we didn't get enough feedback to warrant more content development in this category.
People said they were interested in this feature, but when it came to actually using it, we are not sure if they did.
6. Added category for how to explore OMSI: This was different content paths in the app for different types of groups (families, large groups, adults only, etc.) to explore OMSI.
The thinking was a first time visitor has a different experience than a weekly member visitor, than a group of teens, than a retired couple. This category was to offer suggestions or paths to help with diverse interests in OMSI.
We did this because while testing the app during formative, we were seeing there was an interest from visitors in an OMSI app; however, what they wanted out of the app was varied.
Unfortunately, we ran out of time and since this wasn't the main focus of the grant project (out of scope), we decided to not invest any more time into this development.
What else did we try?
Audio only explanations of content to augment text and images
Submit a video competition.  Visitors prompted to submit a video explaining a concept of the exhibit that we may add to app.
Easter eggs — a photo opp only to be found in the museum if you get the clue from the app.
Use the polling feature as a multiple choice to influence new content for the app
Note: We didn't test these enough to know how successful they were and if we should invest more time in these experiences.  No one mentioned them in the formative evaluation, so we didn't make any adjustments for the app for summative.
What else did we learn?
During the 3 cycles of formative evaluation we discovered several things that we used to alter the App accordingly to get ready for summative evaluation.  Here's what we noted:
Try This section was often used, so we added more content
Large blocks of text (more than about 6-8 lines) was often not read. We reduced explanations.
Pictures are better! We used images to convey ideas whenever possible.
Videos had a mixed response. Many visitors looked at them and some liked them.  Some didn't or felt distracted from the exhibit.  This may depend on visitor preference, but also the length of video.  Since we didn't want to distract from exhibit, we tried to have 20 seconds or shorter videos.
An interactive map was the most requested thing; however, that was out of the scope for this grant project; something to keep in mind for future!
Summative Evaluation
For the summative evaluations we were required to choose a single exhibit, so we focused further content development on the Water Rocket exhibit, where visitors adjust water and air pressure to launch a rocket 30 ft. along a vertical track.  This exhibit is located at the entrance of one of OMSI's three main halls a very open, busy, loud and active area.
We decided to use the Water Rocket exhibit for a number of reasons:
It was accessible for the entire duration of the evaluations.
It is a popular exhibit.
Visitors can test multiple variables.
It has a large amount of app content (content in all categories in text, pictures and videos).
To learn about summative evaluation and the evaluation throughout the project, see evaluation section of XCL project here: http://www.21-tech.org/xcl-pubs/
For the Future:
Our primary focus of testing this app is to increase active prolonged engagement with exhibits; therefore, our app content development team is part of our Museum Education Department.  We hope to explore more with polling, pre and post visit info, and creative use of exhibits.
If we are to integrate this app to the museum for the long term, then we would need our Marketing, Exhibits, and Visitor Services teams working closely together to come up with a more holistic experience for all ranges of visitors.  The results of this project will help greatly in how we move forward.
Feel free to message me on here if you have any questions about our work on this app/exhibit project.
-Sean P Rooney
-Aaron Nash